A rather self-indulgent post, this one. Do bear with me.
The concept of 'desert island' beauty picks is an odd one. Surely if you were trapped on a desert island your first thought (even for me) wouldn't be 'hmm, now where is my Cleanse and Polish!' it'd be along the lines of 'Must escape! Food! Must escape! Food! Build shelter! Food!'
That said, I do love the idle whimsy of thinking about which products I'd select as my all time favourites. The Repurchased Hall of Fame, if you will. Chances are if I've hit empty on a product and bought it again it's normally a keeper.  I'm quite thrifty and hate to throw good money away on something that isn't quite right.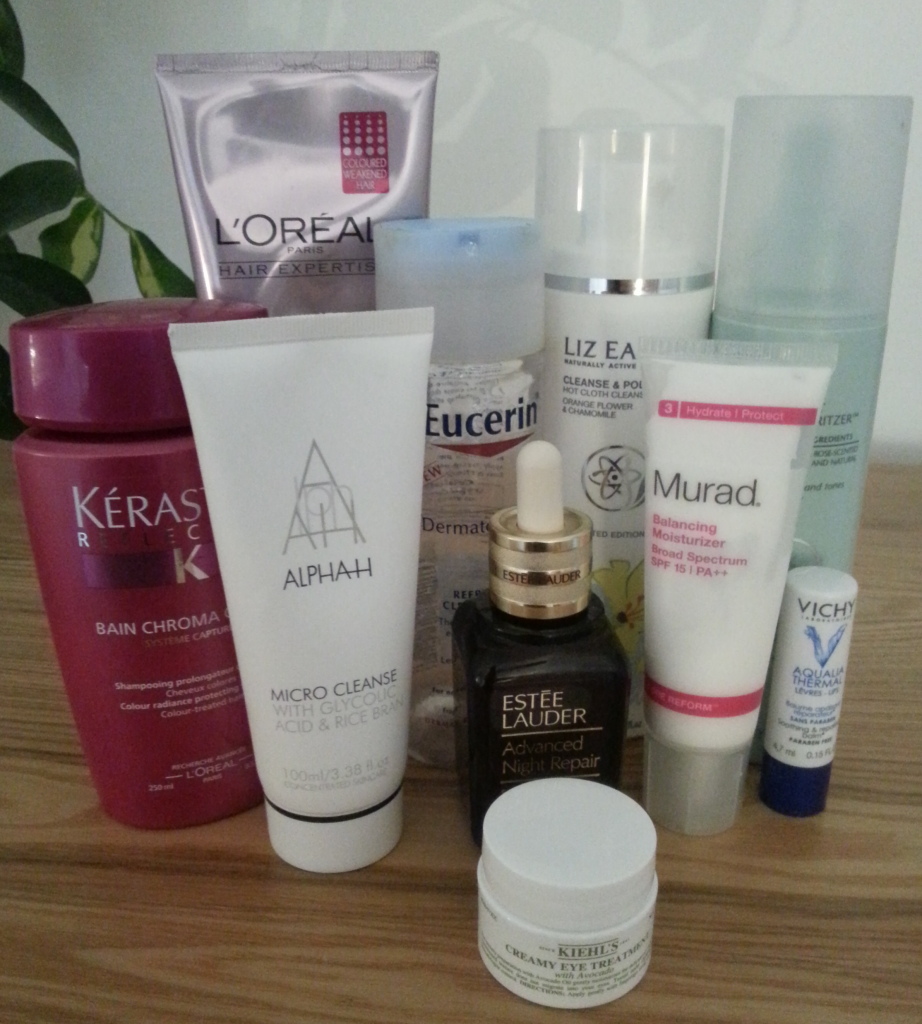 Since I'm no closer to narrowing down my absolute favourites (bit too Sophie's Choice for me) these are, in no particular order, a selection of tried and tested old faithfuls that I've used virtually every day for the past few years.
Liz Earle Cleanse & Polish. Insanely popular, of course, but hands down the best hot cloth cleanser I've ever used. My skin has transformed since I started using this over *mumbles something* years ago. I cheated for a while with Eve Lom –  a Christmas present from my lovely husband – but it was no Cleanse & Polish. I'm currently using the Orange Flower and Chamomile limited edition.
Sidenote: I love Cleanse & Polish so much that I nagged my husband to use the blokey version and it brought him out in a horrible rash
Eucerin DermatoCLEAN Refreshing Cleansing Gel. Just a basic foaming gel cleanser. Nothing too fancy. I like to use a foaming cleanser in the mornings with my Clarisonic. I tried virtually every gel cleanser on the planet until settling on DermatoCLEAN.
Liz Earle Instant Boost Skin Tonic. Spritz it on my face in the morning post-shower, before moisturiser. Smells glorious.
Estée Lauder Advanced Night Repair Synchronized Recovery Complex II (what a mouthful) If I use this at night my skin looks better in the morning. I actually panicked when the original Estée Lauder Advanced Night Repair Serum was reformulated a couple of years back. Needn't have worried, it still works like a charm.
Vichy Aqualia Thermal Lips – Soothing and Repairing Balm So, so cheap. I smear this on every morning and never suffer from sore or chapped lips.
Murad Pore Reform Balancing Moisturiser. Light, smells lovely, and suits my combination skin perfectly.
Kiehl's Creamy Eye Treatment with Avocado No eye cream will prevent wrinkles, nor will they erase existing lines, but this lovely potion makes me look a bit less weary around the old peepers.
Kerastase Chroma Captive Shampoo Nothing else works on my fine-but-dense-slightly wavy-bit curly-bit straight-sometimes highlighted hair.
L'Oreal EverPure Colour Care & Moisture Conditioner Good price (it's often reduced in Superdrug or Boots), good product.
Alpha-H Microcleanse Brilliant exfoliator with noticeable results after using. Not cheap, but lasts ages. I use it no more than once or twice a week.
Hmm, what's missing?
Night cream – I tend to just use whatever non-SPF moisturiser I have to hand. No favourites to speak of.
I rarely do a face mask.  I find that a combination of Cleanse & Polish, Clarisonic (the original Mia) and the Alpha-H scrub is enough to keep my skin in check. If I do use a face mask I quite like Glamglow or the Liz Earle Deep Cleansing Mask.
Shower cream/bath foam. I prefer a shower rather than bath and I tend to buy whatever shower cream is on offer in Boots/Superdrug. I like a creamy indulgent foam and for a while I just loved the Elemis Skin Nourishing Shower Cream (Christmas gift!) but it's a lot of £££ to watch go down the plughole. I'm currently using a giant bottle of Sanex Dermo Protector shower gel that I bought in Wilkinson's for about £2.00. Not remotely fancy but I quite like it.
Serum! I tend to just use the Estée Lauder (not typing all that again) at night. I've been experimenting with No 7's new Protect & Perfect Advanced Serum, after a spritz of skin tonic, before moisturiser, but can't say that I've noticed any major improvements, skin-wise.
Body lotion. I can never normally be bothered to moisturise after showering, so no favourite body lotion. As long as I use a fairly moisturising shower cream (I don't find the Sanex to be at all drying) my skin doesn't tend to get dry.